The founding of Conklin Metal Industries and its service to the sheet metal industry throughout Georgia and the Southeast date all the way back to 1874.

It originally operated as a stove, tin ware and house furnishing business on Whitehall Street in Atlanta under the name A.P. Stewart & Co. This business was managed by Andrew P. Stewart, who was "one of the most popular men in Atlanta", and who later became the Fulton County Tax collector – a position he held for 26 years.
Charles A. Conklin was born in New York City July 1848. He grew up in Baltimore and started working in 1866 for Lyon, Conklin & Company, a company founded in 1860 by his father Daniel, along with William Lyon. He became a partner in the firm and remained as partner for a period of time before deciding to move to Atlanta to and bought A.P. Stewart & Co., and began operating under the name Charles A. Conklin Mfg Co. The nature of the business was "Tin Plate, Metals, Tinner's Stock, and Stoves, Etc." He continued to operate the Whitehall store as the retail department.

Mr. Conklin grew the business considerably and beginning in 1891, conducted business out of a newly constructed four-story, 40,000 square foot warehouse at the  corner of Marietta Street and Jones Avenue in Northwest Atlanta – the current site of Philips Arena. An article in the Atlanta Constitution referred to the operation at that time as "the largest factory in the southern states and one of the largest in the country".  This building was situated along the Western and Atlantic Railroads. This location  offered ease of unloading for the heavy materials, such as tinplate, sheet iron, wire, zinc and copper stored on the first floor. The second floor was used for packaging and inventory storage. The third and fourth floor employed over 100 people and was used exclusively for tin ware manufacturing.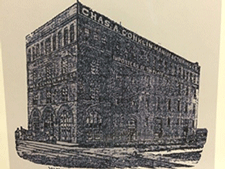 In 1902, Mr. Conklin sold the entire tin ware manufacturing portion of the business to the American Can Company. The business continued out of the same warehouse under the new name of Conklin Tin Plate and Metal Company.  Having sold the largest segment of the company, he closed the retail department on Whitehall Street and the focus shifted to that of the wholesale trade of Tin Plate, Metals, Solder, Sheet Copper, Sheet Iron, Conductor Pipe, Tinmen's Machines and Tools.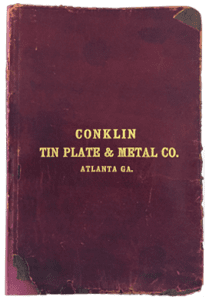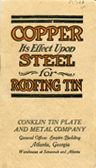 In 1925, the company purchased a piece of property at the corner of Moore Street and the Georgia Railroad.  This property was across the street from the Atlanta Paper Company and next door to where General William Sherman stabled his horses during his 1864 "March to the Sea."The owners, Charles Conklin and John N. Goddard, devoted the business exclusively to "the distribution of Sheet Metals, Metal Roofing, and Sheet Metal Shop supplies." Another warehouse in Savannah, Georgia serviced the southeast area of the state until World War II when the warehouse closed due to the difficulty in buying materials.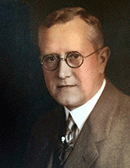 Mr. Conklin remained as President of the company until his death in 1929. He was succeeded by Mr. Goddard, who served until 1949.
By the 1930's the product offering was all types of sheet metal with a heavy emphasis on roofing – including gutters and downspout. In the late 1930's, with the advent of HVAC, sheet metal was being used to fabricate round and rectangular ductwork.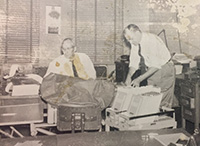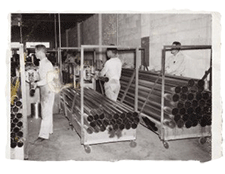 Harry B. Thompson, Sr., who had started at Conklin in 1898 as a teenage office clerk, served the company for over fifty years before he became President of the company in 1949. He held that position for only four years but by that time had established a foundation for a family legacy that would span four generations. His son Harry B. Thompson, Jr. came to Conklin upon graduation from Georgia Tech in 1928 and served as Vice-President until 1953 when he succeeded his father as President.
The 1950's brought the addition of more heating products. The company was also beginning to invest in machines to form round pipe for both rain
carrying and HVAC.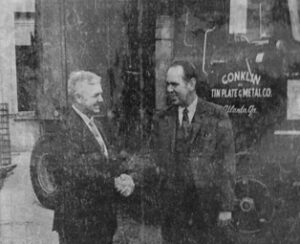 And by the 1960's the product offering was a complete line of sheet metal,
roofing products, heating products and machine tools. Heating products included snaplock and elbows, fittings, boots, rectangular ductwork – plus other duct fabrication supplies like vane rail, canvas connector, damper hardware, solder, screws and pop rivets.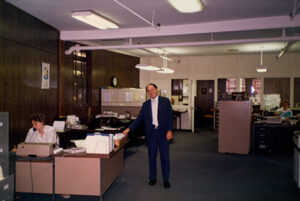 Harry B. Thompson, III, also a graduate of Georgia Tech, who came to Conklin in 1962 became Company President in 1971. He held this position until his retirement in 2003; it had been 105 years since his grandfather first started as a billing clerk.
Conklin Metal Industries is now in its' fourth generation as a family-owned and operated company servicing the entire southeastern U.S. out of ten warehouses – two in Atlanta, Greenville, Birmingham, Orlando, Mobile, New Orleans, Memphis, Nashville and Jackson.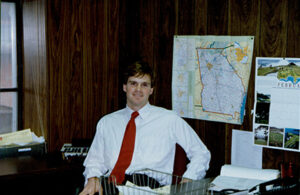 Conklin remains a strong, growth-oriented company committed to taking care of our customers by providing quality products at competitive prices with exceptional service. This is possible because of our hardworking, dedicated employees; our strong, long-standing relationships with our suppliers; and our flexibility in responding to our customers' needs.